April 14, 2020
|
Students

,
6 Reasons You Should Become a Welder
Do you get a kick out of watching sparks fly on the Fourth of July? Then spark your career and become a professional welder.
Welding is a growing career field that offers many opportunities for those interested in learning technical skills, exploring creative tendencies and working hard.
There are many benefits of a career in construction, but here we explore the top six reasons why you should become a welder.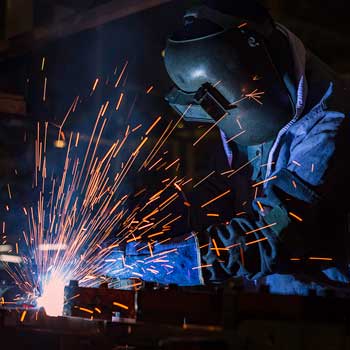 1. Growing Demand
Because fewer people are becoming craft professionals, the construction industry will face an even greater labor shortage in a few years. It is estimated that 29% of the current workforce will retire by 2026.
That is more than one-fourth of the entire construction industry. With the number of craft professionals needed on the rise, there is no better time to enter the industry, especially welding.
The American Welding Society (AWS) estimates that there will be a shortage of more than 375,000 welders by 2023. With opportunity knocking at your door, this makes welding a perfect career choice.
2. Doesn't Require a College or University Degree
Most welding careers, along with other craft professions, follow an 'earn while you learn' model – an apprenticeship. This means that during the process of acquiring the skills and competencies needed to be successful in the craft, you can begin working on the job and earning money.
A career as a welder does not require a bachelor's degree. Just a high school diploma can get you started. Therefore, a huge benefit of joining this industry is that you can start from the bottom and gain skills and experience all on the job and through specialized craft training.
This means that if attending a four-year college is not for you, you do not need a degree to succeed.
3. More Opportunity, Better Pay
High demand. High salaries. High potential.
As the construction industry looks to recruit the next generation of welders, big demand means more work, and with more work comes more opportunity.
Employers are looking to fill positions with qualified professionals, meaning companies are willing to spend more money to get the skills they need. According to NCCER's 2018 construction craft salary survey results, a career in welding ranged from $55,000 up to $70,000 a year.
As you progress in the craft, the more opportunities there are to climb the ladder and earn a higher income.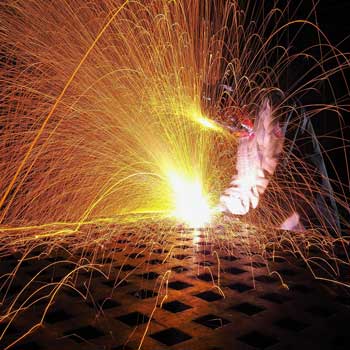 4. Interesting Hands-On Work
If you enjoyed playing with building blocks as a kid, or liked hands-on projects at school, then welding is a perfect career choice to explore that creativity.
Interested in projects that involve an amusement park, general construction, the energy sector or even shipbuilding? A career in welding can lead you into a variety of different industries and places.
Diversity keeps work life interesting and hands-on training allows you to learn the craft through experience.
Combining the two, and welding is a career that is fun, unique and never repetitive.
5. A Career for Women
Skills, training and credentials are important attributes for a craft professional and women are perhaps the heroes the industry needs to fill the labor gap.
Currently, women make up 9.1% of the construction industry. Though this percentage is low, the industry is looking to recruit, train and educate women into a variety of craft professions.
Jimmy Greene, president/CEO at Associated Builders and Contractors (ABC) Greater Michigan Chapter, says that women often outperform men in welding competitions.
"Men have a tendency to follow a flame; women follow the pattern."
While construction may be perceived as a male-dominated field, women are a key asset to the industry, especially in welding.
6. Rewarding Career
Welders join objects together by applying heat or pressure and can building anything from ships to cars, bridges and more!
Becoming a welder and watching a project evolve from start to finish comes with a certain level of pride. Welders use their skills to create magnificent, breathtaking structures every day.
Welders play a crucial role in the construction industry, and it is rewarding to know that one of the many projects you could be working on will leave an impact on America for years to come.
Spark Your Career Today
Interested to know what professionals in the craft have to say about welding? Check out the Discover Success videos to hear personal stories about how welding shaped their career in construction.
If welding seems like the right career path for you, find a training center and start earning the skills and competencies you need to be a craft professional today!