December 8, 2021
|
Students

,
8 Hobbies That Can Help People Thrive in a Construction Career
Construction is an exciting field to go into. No matter their daily tasks, workers are responsible for creating the structures that help individuals in their daily lives. Many people see it as a rewarding career, whether they're building a house or fixing a main road.
Several hobbies and pastimes can prepare an aspiring craft professional or construction manager for the job of their dreams. They might find an excellent fit if they're experienced in these activities where skills can translate to their desired field.
Check out these eight hobbies that can help someone succeed in a career in construction.
1. Tutoring or Coaching
Communicating complex concepts is difficult, but working as a tutor or coach can help someone know how to talk to people from all backgrounds about a particular topic. Coaches and tutors often have to teach others and explain the concepts and material, which is a perfect way to practice communicative concepts.
In construction, communication is key to ensuring every project goes off without a hitch. Managers in higher positions need to know how to direct others and delegate tasks effectively. Having experience in coaching can help a manager gain the necessary leadership skills to run a team successfully.
Knowing how to communicate effectively can make a job so much easier, even for people who aren't managers. When everyone is working on their tasks, it can be easy for small details to get mixed up or lost somewhere down the line. Having those skills can help a person prepare for any sort of mistake or mix-up.
2. Cooking or Baking
When multiple people work together on small tasks that make up a single project, someone needs to keep them on track. A person who has experience with cooking or baking, activities in which every step and managing time are crucial, could come in handy in an industry where meeting deadlines is critical.
Bakers and cooks have hands-on experience undertaking projects that require many working parts. They tend to have excellent time management skills, as planning is vital to ensuring everything runs smoothly in a recipe. Construction projects follow similar guidelines, where planning is essential to the success of the entire project.
Planning and managing time without procrastination can help alleviate the stress caused by a hefty project schedule. Setting priorities and having guidelines of how the day should go, yet being flexible enough to allow for mistakes or setbacks, can set a team up for success and give them a clear outline of what they should work on.
3. Staying on Tech Trends
People who watch for developing technological breakthroughs are often well-prepared for a career in construction. As technology advances and equipment becomes more complex, understanding the tech trends and knowing where to look for ongoing information can be a huge lifesaver in a workplace that doesn't demonstrate that knowledge.
Some people may know all about construction, but they need a tech-savvy person to help them with the more technical aspects of the construction business. Those who understand technology well may not be doing much of the heavy lifting in a construction job, but they could be the ones carrying the project when the team runs into hiccups. They'd make an excellent fit for a managerial position, where the employee has to keep their eyes open for safety risks and potentially educate other workers.
4. Environmental Activism
An eco-conscious person's first thought may not be to go into the construction business. Still, they can make a change in the world around them by using the research and experience they've gathered in knowing how to make society more environmentally friendly. This hobby would be excellent for someone in a sustainability consultant position. They could advise clients and their teams about the most environmentally friendly options and ensure they're building in the best possible way.
Learning how to maximize fuel efficiency to minimize carbon emissions is one mission every construction group can get behind. Knowing the latest sustainability technology can help an eco-friendly member of the team direct others toward a greener construction site. They might even encourage their superiors to use better building materials and methods, thereby improving the quality of life of the people who will frequent the project when finished.
5. Woodworking
Woodworking is a beloved pastime where people use various tools and types of wood to produce something with their hands. Woodworking is one of the four most popular hobbies, and it can yield results with practical applications. Projects can range from mailboxes and birdhouses to tables and chairs. In construction, the field of carpentry is another application of woodworking skills. People who are already used to working with their hands could find a seamless transition into the industry.
6. Volunteering
Volunteering is a great way to make an impact in a community, and so is construction. People who enjoy making a difference through volunteering will appreciate the opportunity to build homes, schools, hospitals and other important projects.
Many volunteer projects involve physical labor, and some are even directly related to construction, such as building homes for Habitat for Humanity. If someone knows how to make structures thanks to their volunteer work in the past, they will find those skills serving them well in the construction industry.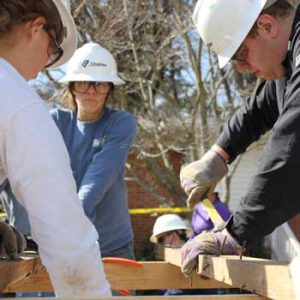 7. Robotics
Knowing about AI and the Internet of Things (IoT) can help anyone in the construction business. Many pieces of equipment run on up-to-date technology to make tasks easier for the crew and keep the project as environmentally safe and friendly as possible. When implemented into construction equipment, AI can help make a site safer and make the best use of a project's resources.
While technology of this caliber might be confusing to some, a person who has worked with AI in the form of robotics could help a team get on the right track. Someone with experience in AI can teach the rest of their team about best practices and set them up for success in every project to follow. An engineer would be welcome on any construction team, as they understand the inner workings of many of the machines and coding required to keep a project running smoothly.
8. Brain Teasers
Brain teasers can help anyone prepare for some of the difficult decisions they might make in construction management or even on lower levels of the ladder. Because teasers like crossword puzzles, word searches, sudoku and others rely on critical thinking skills, among other things like swift decision making and strong memory.
These puzzles also require a degree of imagination and can decrease the likelihood of developing poor memory. Having a healthy brain and mental state can help anyone on the job. It takes skill to remember where certain things go, and by completing brain teasers, workers of all ages can bolster their memory and critical thinking skills.
Completing brain teasers requires a certain level of attention to detail. A construction project manager must be aware of every detail and collaborate with multiple people to ensure every job is completed without skipping a crucial part. Building things can sometimes feel like a puzzle, one that's perfect for project managers to put together.
Using Hobbies to Help Careers
Hobbies can be fun and full of stress relief, but they can also help people improve their skills for their jobs or the position they want. Someone aspiring to break into the construction industry should pick up all the valuable hobbies they can find. Participating in these activities can make transitioning into a construction space easier when the time comes.