November 15, 2021
|
Students

,
Career in BIM: Everything You Need to Know
When considering a construction career, one possibility that may pop up is BIM. Yet what exactly is BIM?
For a short answer, BIM is an exciting career opportunity that allows you to work with real-time information to create 3D models. Construction professionals ranging from architects to engineers and contractors use BIM in their creation of structures.
What does a career in BIM look like? Here's what you need to know.
BIM Overview
BIM stands for "building information modeling." It may also be called building information management.
It is a concept that allows you to use technology, resources and tools to create digital representations of buildings and structures. These digital representations involve the building's exterior features as well as interior-connected systems. With this 3D modeling and data, professionals from a wide range of industries can better plan, design and construct buildings from start to finish.
In addition to designing and construction, BIM also allows for more strategic management and operation of buildings and structures by property owners, facility supervisors, municipalities or government entities. These virtual files and visual plans allow for accurate representations of the structures at a smaller 3D scale using the provided data, so project teams gain a greater understanding regarding building system interactions.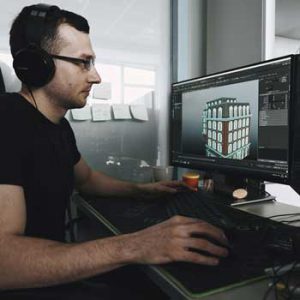 Levels of BIM
When creating BIM projects, there will be varying levels of information sharing. Every project is different due to its complexities. Each project is assigned a different BIM level based on the amount of information that is collected, shared and managed.
Level 0 BIM: 2D and paper-based drawings
Level 1 BIM: 2D drafting and some 3D conceptual work
Level 2 BIM: Separate 3D models for each project team
Level 3 BIM: Shared 3D models for project teams
Level 4 BIM: Scheduling data added to the model
Level 5 BIM: Budget analysis, cost estimates, and budget tracking added into the model
Level 6 BIM: Energy consumption calculations and analysis added into the information model
BIM Applications
Keep in mind that BIM is used for more than just residential or commercial building construction. A person who is a BIM modeler may perform work for different structures in various industries:
Energy & utilities
Rail & metro transportation
Civil & structural engineering
Marine & offshore architecture
Smart city design
Duties and Responsibilities
Having a career in BIM opens up a range of duties and responsibilities related to 3D modeling projects.
Many duties will include using software to create the visual models and collaborating with different project teams, engineers and architects to verify and gather real-time information. Another responsibility is to figure out the right elements for buildings and their scale.
Due to the tight timeline of projects moving from planning to design to construction, people involved with BIM must adhere to strict deadlines and adapt to changes that may occur when real-time information becomes updated.
BIM Skillsets
If you are interested in becoming a BIM modeler, there are several skills to develop to provide greater opportunities to exceed.
Due to the job requiring the use of software to generate models and acquire data, having advanced technical and math skills are a must. You also will need to have strong verbal and written communication skills, collaboration skills and interpersonal skills. These skills will allow you to work with different people within project teams to complete the required work.
Often you will have the meet required deadlines and while paying close attention to details. Building on your time management skills permits you to properly schedule out and complete work for teams so that the project can continue moving forward at a productive pace. At the same token, paying close attention to details ensures that data collected and used for the 3D modeling remains accurate throughout the entire process.
Deciding on a Career in BIM?
Careers in construction offer high-tech opportunities to make an impact in an essential industry. Learn more about the different pathways in construction with Build Your Future.