May 7, 2019
|
Parents

,

Students

,
Construction: It's Safer Than You Might Think
There is no "I" in team.
This is especially true when it comes to ensuring the construction industry is a safe place for individuals. Safety isn't an individual focus, we are stronger and safer together.
Safety is and should be a daily focus for everyone in construction, and the industry makes a special effort a few times each year to refocus and re-energize their commitment to reducing injuries and keeping safety at the forefront of their minds. Construction Safety Week, National Safety Month and many craft-specific events highlight the push for safety training and awareness.
Maybe you're thinking … "but someone told me the construction industry is dangerous." Well, there are so many misconceptions about the construction industry and especially about its conditions. We are here to tell you that construction is safer than you think! We work towards one specific goal: making sure everyone goes home safely at the end of the night.
Safety protocols and procedures are not just about the company or the individual, as the impact of a safety issue goes far and beyond the walls of the construction site. Every year we focus on safety, every month we focus on safety and every day we focus on safety.
Look at what the industry is doing to make sure you are safe.
OSHA
"With the Occupational Safety and Health Act of 1970, Congress created the Occupational Safety and Health Administration (OSHA) to assure safe and healthful working conditions for working men and women by setting and enforcing standards and by providing training, outreach, education and assistance." -OSHA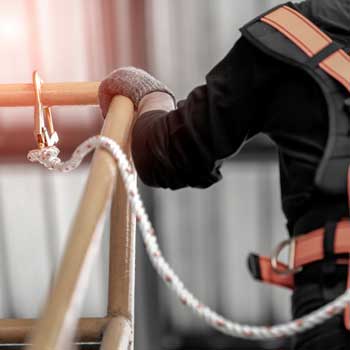 OSHA stands at the heart of construction. Since 1971 when OSHA was founded, it has reduced workplace fatalities by 66 percent. The OSHA standard includes training requirements and safety standards that have saved thousands of lives. If you work for the construction industry, you must receive training about safety concerns, such as general safety and health provisions, personal protection equipment, fall protection and other topics defined by OSHA standards. OSHA's Outreach training program helps promote workplace safety and gives access to training by OSHA-Authorized trainers.
Whether it's the 10-hour or 30-hour training course that you take, OSHA Outreach helps ensure you know the basics of safety and training to keep you protected on the job. Most construction companies believe this is an essential part of their safety program. Why wouldn't you want to work for an industry that has safety as their number one priority?
Safety Managers
Safety requires a team effort, and this is exactly where safety managers come in. Safety managers are individuals who manage the safety programs and guidelines for a company to minimize accidents and injuries. Yes, you heard it correctly, there is someone on the site solely focusing on safety procedures for you and your fellow employees. Construction safety managers promote safe work performance, assist in annual inspections, manage identified hazards and provide safety, accident prevention and investigation trainings for manager and supervisors. Companies should always adhere to both existing and new regulations and safety managers ensure that you are informed, prepared and most importantly, that you go home at the end of the day.
Safety Equipment Improvements
Being safe means full body coverage to ensure that you not only work safely in the industry, but you look the part as well. According to OSHA's quick card, personal protective equipment (PPE) covers five major categories.
Eye and face protection
Foot protection
Hand protection
Head protection
Hearing protection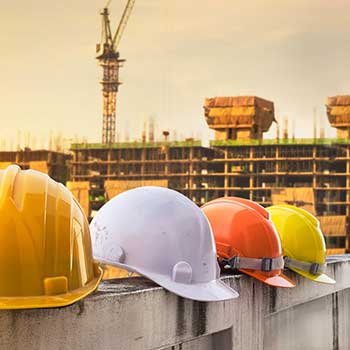 Technology
Interested in working with cool technology? We are! Gadgets like drones, virtual reality and exoskeletons are being used to maximize safety in the construction industry. Technology is constantly improving how the industry operates and over the past few years, companies are realizing technology can do so much more than increase efficiency.
Drones
Since the Federal Aviation Administration established rules for their use, the use of drones has really taken off. Able to reach high-risk areas and tightly-squeezed spaces, these devices can quickly survey a job site, build maps, inspect structures and capture promotional photography and video. Drones play a huge role in construction safety, as they can identify potential hazards on a site each day. Since safety standards is one of the top elements' construction sites monitor, drones provide workers and managers with quick and easy-to-read data that protects workers and informs them of changing work conditions as soon as they arise.
Exoskeletons
Most jobs ask you if you can lift 30 to 40 pounds easily, and while you may be able to do that for a short time, asking someone to do that for hours can be strenuous. Industries are introducing exoskeletons and power-assist suits, so workers can lift and carry heavy objects or tools for longer without putting extra stress and strain on the body. Being safe goes far and beyond the job site, it means protecting yourself as well.
Virtual Reality
Virtual reality is being using in a variety of occupations to give workers realistic scenarios that better prepare themselves in the field. If military personnel, pilots and surgeons can use VR to help prepare for their job, so can you! VR is used to introduce realistic sensations of heights, stress and environment hazards and practice safety procedures by simulating different scenarios. Remember, repetition is the key to mastery. Safety training and equipment operation training are two areas in which virtual reality is helping to shape the future of construction. The more exposed you are to conditions, practices and procedures, the safer you will be on the job.
Screenshot from the CM Labs Crawler Excavator Simulator Training Pack
Have you changed your mind about construction? Dive into the field, protect yourself and be a part of a community that makes sure you do your job well and safely. Put your hardhat on and discover more today!