March 26, 2019
|
Students

,
Unleash Your Creativity Through the Crafts
Artists have many mediums in which they express their skill and creativity.
Painters use oil or acrylic paints and a blank canvas or other surface to produce their masterpieces. Musicians strike up cords on pianos, guitars or with their own voice. Sculptors use clay or marble; photographers use cameras; chefs use food; writers use pen and paper (or in modern days, a keyboard and mouse).
But along with the pens and the paints and the brushes and the musical instruments is another medium of artistry that often goes overlooked: Construction.
The World is a Canvas
Construction is an art medium? How can construction be a form of art?
While it's common for the average person to write off a nearby construction site as a temporary nuisance, a closer inspection beyond the Bob's Barricades reveals the similarities of such a site to an art studio.
Carpenters and ironworkers arranging and securing wood and steel for a building's framework is like a drawer sketching out the outline to a new piece.
A welder using heat to fuse two objects is like a potter using damp clay to marry a handle to a vase, or a model-maker using glue to secure one surface to another.
Operating a crane is like a dance; rather than moving your feet and body to the rhythm of the music, operators tango with wind and weight to get materials from one location to another.
Even the noisy ruckus of a construction site is like a music composition: The hitting of the hammers, the whirring of the riveting, the shredding of the saws, and the beeping of the bulldozers combine to create a curious yet beautiful soundtrack to the building.
Construction sites can seem chaotic from the outside. But when the dust settles, a beautiful new home, office, hospital, school remains. The skilled artists who spent months or years working their craft leave behind a new street-side staple or the latest icon for a city's skyline.
"I wouldn't choose to express my artistic side with any other medium than a saw, two-by-fours and a hammer," says contractor and TV personality Kayleen McCabe.
A Career as an Artist – That Actually Pays Well
McCabe has been exposed to craftsmanship since she was very young. She first began by learning automotive with her father, and then later helped to make scenery flats in her high school's drama program.
But while she loved working with her hands and being creative, McCabe, like many other young adults, didn't originally think of construction as a career option.
"It wasn't until my 20s that I realized that working with my hands in construction could be a career that I could actually have," she said.
For too many of our youth, artistry and creativity is scraped away by adulthood. The reality of becoming a self-sustaining member of society often forces individuals into pre-defined boxes. And for the brave few who do pursue their artistic passions, career options are limited — and the careers that do exist usually don't pay well or consistently, forcing the artists to get additional jobs to keep finances in order.
A career in the construction crafts represents a significant exception to the rule, however.
The growing demand for craft professionals and their unique skills has in turn lead to ever-increasing salaries. According to NCCER's 2018 Construction Craft Salary Survey, there are nearly 20 different construction career fields with an average annual base salary over $60,000. And along with travel pay and other bonus incentives, many craft professionals come home with six figures every year.
For those who are true artists at heart, a career in construction might be the perfect way to earn a strong paycheck while still feeding the desire to create something incredible.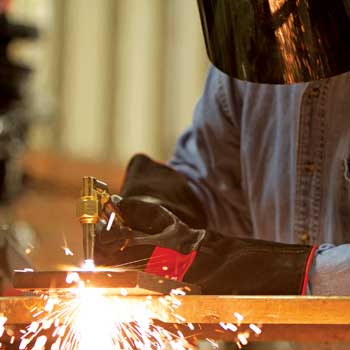 A World of Possibilities
McCabe's creativity, craft skills and background in drama all collided when she won a competition to become the next TV contractor. The result was a hit show on DIY called "Rescue Renovation," where she used her construction expertise to help bail out homeowners with failed remodeling projects.
After 5 seasons and more than 100 episodes, McCabe is now helping to share the message of the benefits of a career in construction.
"I can tell you for a fact, there are multiple pathways to success — construction being one of them," McCabe said. "So when you're considering what to do after high school and the career path to take, know that there are lots and lots of options out there."
Kayleen McCabe's story is one of many that shows the opportunities that emerge for creative minds when they express themselves through craftsmanship and the high skills of the construction industry.
Click here to discover more stories of success from construction craft professionals.