June 16, 2020
|
Industry

,

Students

,
Virtual Career Fairs and What to Expect
If there was any doubt that we are living in the digital age, the post-pandemic world will confirm it.
To comply with social distancing rules and quarantine restrictions amid the COVID-19 pandemic, many aspects of work, school and life have been altered. With online learning, video conferences, virtual hangouts and livestreamed events – our new lives are online.
In an effort to maintain normalcy, schools and businesses have scrambled to translate real experiences into the digital world. Many students finished their final year of high school virtually and never got their last day in a real classroom. Some students have now experienced graduation online or through other nontraditional methods.
SkillsUSA congratulated their graduating class with a virtual celebration on YouTube with featured messages from teachers and fellow students. YouTube also hosted its own global livestream for the class of 2020 with speeches from Beyoncé Knowles Carter and former President Barack Obama and performances and special appearances by a myriad of global celebrities. The livestream lasted over four hours and boasted over 8.2 million viewers.
Now that the school year is over for most, a lot of people are wondering: what's next? With many schools and businesses maintaining caution about next steps, there are a lot of questions and issues hanging in the balance.
One thing is certain: The digital landscape in the business environment is changed forever. Video calls are now commonplace and virtual events are considered a valuable alternative to in-person gatherings. With so much left to explore, students and employers are going to start seeing an increase in virtual career fairs.
What is a Virtual Career Fair?
Let's start with the basics. A career fair is an event where job seekers and employers meet to discuss employment opportunities within a specific company or a general industry. They're great for career discovery, networking and even landing a new job or career! Traditional career fairs typically involve employers setting up booths where students and career seekers can walk up and start a conversation. In short – the experience is very interactive.
It can be hard to imagine an event like this taking place virtually, but it is more than possible. When translated onto an online environment, students and career-seekers can browse different booths and areas of the event while choosing to "walk" into certain booths. Of course, this is done by clicking on a company that seems interesting.
Once they enter the booth area, students can look at videos, fliers, posters or whatever the company has arranged to be shown at the event. Then, the student can either talk to the attendee if they are open and at the booth or they can schedule a time to speak with the company. With chat functions, it can mirror the experience of a real-life event, just without face-to-face contact.
These events vary in the level of features and functionalities offered; you should always consult with the career fair's website to read about what to expect when attending.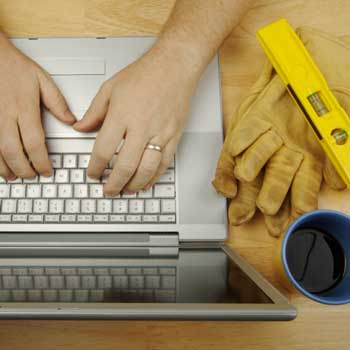 How to Prepare for a Virtual Career Fair
So the career fair you were planning on attending was moved to a virtual format – what now? Just like a normal fair, you should always be prepared when meeting and speaking with potential employers. When it comes to a virtual fair, you may have to alter your preparation slightly. Here's how:
Register ahead of time
Make sure to secure your spot and register for the event. While you are on the event site, make sure to look at what to expect. The fair should describe what the fair will look like and what functionalities will be available.
Research participating organizations and companies
Next, look at the career page to research who will be in attendance. Find out which organizations you are interested in, look at their website and browse potential career opportunities. There is no such thing as being too prepared!
Get your resume ready and up to date
Update your resume with your latest experience and qualifications. Need help crafting the perfect resume for a construction job? Check out our blog about what to do.
Practice your elevator speech
When talking to potential employers, they will likely want to know a little bit about you and what you are looking for. Prepare an elevator speech that communicates who you are and what your intentions are for the conversation. There are plenty of resources for making a perfect speech.
Wear a professional outfit
If you are attending a fair that allows for video chat communication, it is important to look your best! Demonstrate your professionalism and dedication by looking the part, whether you are at home or standing in front of the employer.
Attend in a distraction-free environment
When setting up your computer and the rest of your workspace items to attend a virtual career fair, find somewhere you can focus on having meaningful discussions with employers. You don't want to be halfway through your elevator speech when Mom walks in asking if you want lunch.
Enjoy!
Finally, enjoy your experience! Virtual career fairs are a relatively new development that everyone is testing the waters with. Do your best to be prepared and work through the software. Happy attending!