March 9, 2021
|
Parents

,

Students

,
Women in Construction: In the Office and the Field
The construction industry has long been a space that was made up almost exclusively of men. But in recent decades, more and more women have been entering the construction workforce and making an impact.
Only 9.9% of the current construction workforce is female, but the industry is more open to women than ever before. Women are having a bigger influence in board meetings and decision making, while plenty of opportunity exists for women in the skilled crafts. Whether they are working on job sites or back in the company offices, women are an important asset for the future of the construction industry.
Representation in Offices and Growing Women Leadership
One of the ways women have made the biggest difference in the industry is in the offices and headquarters of construction companies, associations and training programs. Women are filling out roles in sales, marketing, IT, administration and other in-house departments.
Although these components are not always the first things one thinks of relating to the construction sector, the talented women and their teams working "behind the scenes" are critical and keep the wheels of this trillion-dollar industry turning.
Women are also making an impact through leadership. About 13% of construction firms are now owned by women, a 94% growth since 2007. Companies are also adding more women in executive and chief-level positions. Of the top 100 construction companies, 44 have executives who are women. Organizations with greater diversity have consistently shown to be more profitable and successful, bringing new ideas and approaches to the table.
Although women are still underrepresented, some of the progress toward diversification in construction offices is an encouraging step in the right direction.
Few Women are In the Field – But Here's Why They Can Be
More women are taking on roles in many different departments within construction companies, but one of the most front-facing areas still sees a lack of women. Only about 1% of the industry is comprised of women actually working out in the field.
Although this number may seem shockingly low, it is not an indication of a woman's ability to perform construction tasks, nor a reflection of the need and desire for more craftswomen to join the industry.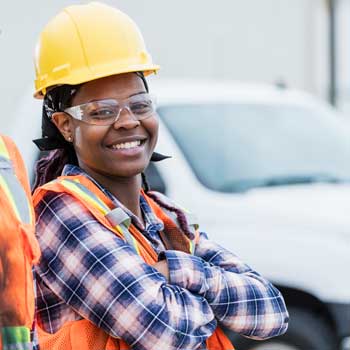 In past eras of construction, the physical demands of the work were often considered a barrier to women. However, improved technologies and building processes in recent years have eliminated most of those concerns.
Skills-wise, the competencies needed in the field can be learned by anyone, regardless of their demographics. Measuring and cutting wood, correctly connecting wires and instruments, and operating the controls of an excavator or crane are in no way gender-specific roles. Anyone who enjoys working with their hands can become a craft professional.
Check out these testimonials from successful craftswomen in construction.
Holley Thomas, Welder:
Temika Gibson, Electrician:
The industry is hoping that more women will take advantage of the opportunities available in construction. The sector is currently facing a shortage of skilled workers, caused primarily by the ongoing push for students to pursue four-year degrees at a university rather than learn a trade. With experienced craft professionals starting to retire in waves and a lack of new entrants to the field, there is a growing demand for skills. Finding ways to encourage more women to choose a career in the building arts might be a big key to filling that demand and maintaining the long-term health of the industry.
Less than 10% of the construction industry is made up of women, and only about 1% of the industry's workforce are craftswomen in the field. But while equal representation is still a work in progress, these numbers represent not a problem, but potential; an untapped well of talent that can make the industry a better place.